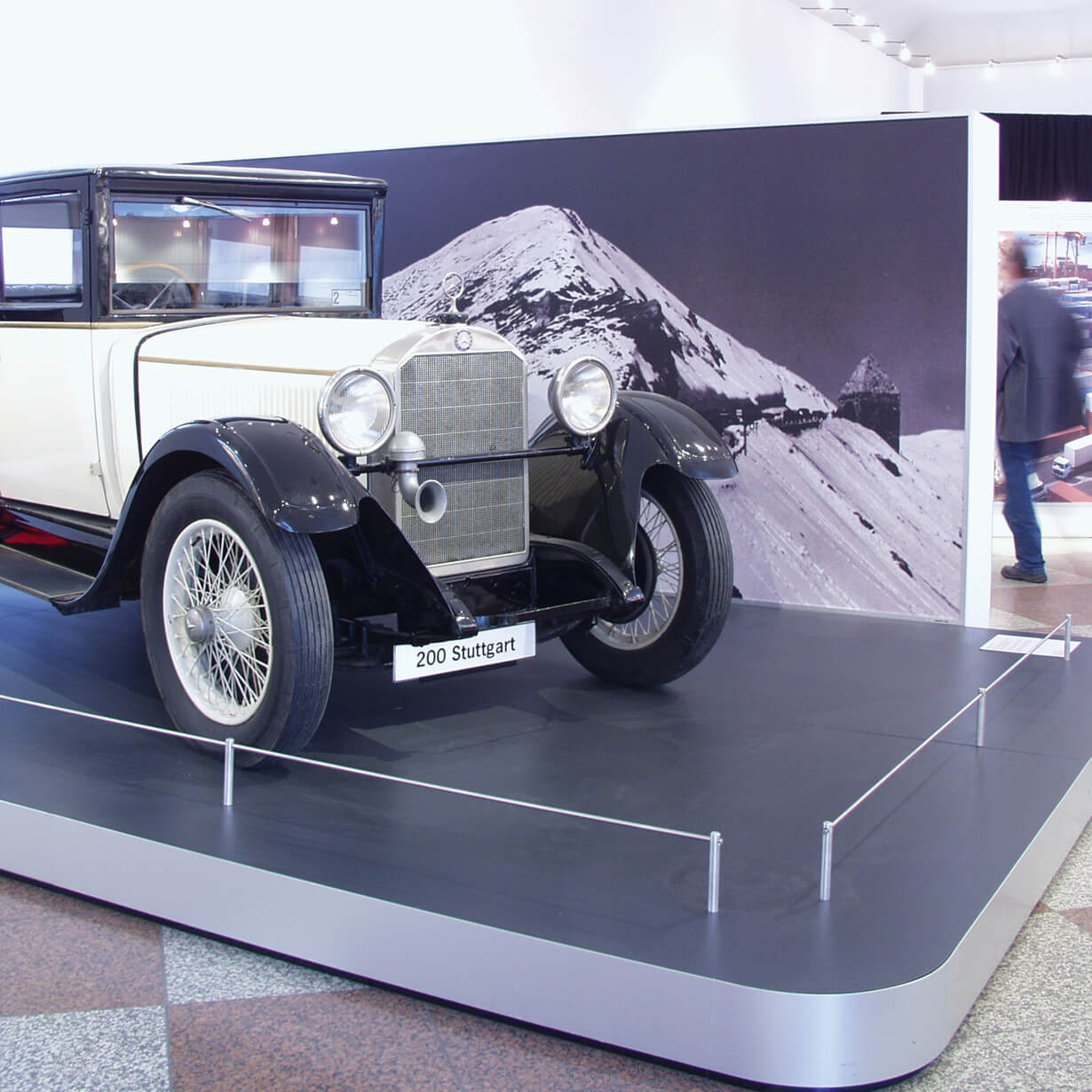 Wanderausstellung zum 100. Geburtstag des ADAC, Projektgemeinschaft Egger-Utzmeier
Berlin, Stuttgart, Wolfsburg, Frankfurt, München
Dez 2002 – Feb 2004
Als die Deutschen in den 50ern Bella Italia als Reiseziel entdeckten und das Verreisen Volkssport wurde, war der ADAC bereits Wegbegleiter. Gegründet wurde der Club bereits vor 100 Jahren. Um das zu dokumentieren, beauftragte der ADAC eine mobile Wanderausstellung auf ca. 350 qm, die an verschiedenen Orten präsentiert wurde.
Für die Gestaltung bedeutete dies: Dezente, weiße Farbgebung und leichtes Material, um allen Anforderungen gerecht zu werden. Sieben variable Präsentationsinseln erfüllten den technischen Anspruch an die Ausstellung. Großformatige Grafiken, bedruckte Acryl – Doppelstegplatten und diverse "Souvenirs" inszenierten die Reise-Landschaft um die Exponate herum.
Touring exhibition for the 100th birthday of the ADAC, project collaboration Egger-Utzmeier
Berlin, Stuttgart, Wolfsburg, Frankfurt, Munich
Dec 2002 – Feb 2004

When the Germans discovered bella italia as a travel destination and traveling became a popular sport, the ADAC was already a companion. The club was founded over 100 years ago. To document this, the ADAC delegated a mobile travel exhibition of approx. 350 sqm, installed in different localities. What this meant for the design: Subtle, white color schemes and light material to meet all demands. Seven adjustable presentation islands fulfilled the technical requirements of the exhibit. Large-sized graphics, printed acrylic double-plank boards and various "souvenirs" staged the travel landscape around the exhibits.
Fotocredits: Andreas Hoernisch