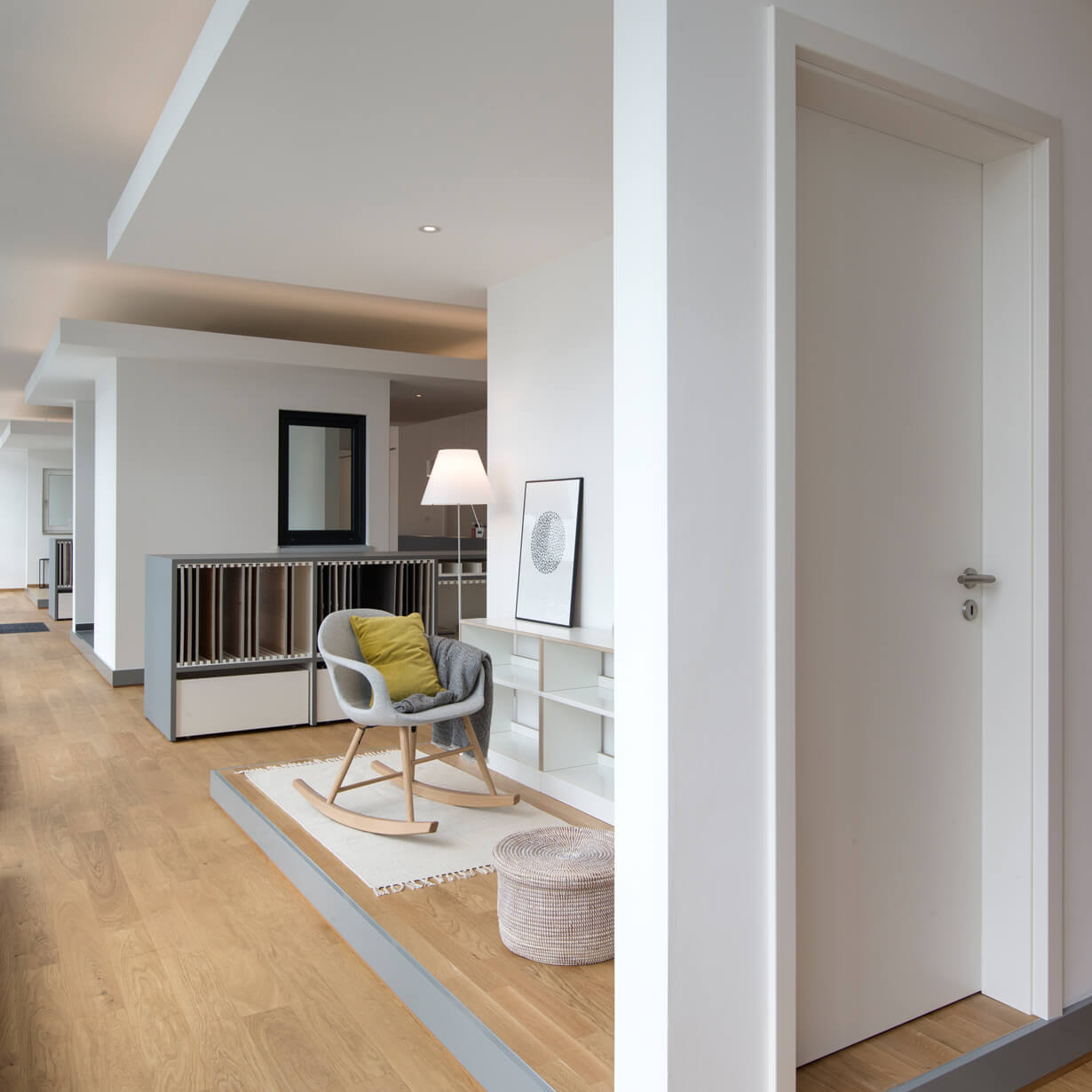 Gestaltung des Showrooms für den Bauträger Krämmel
Wolfratshausen bei München
Mai 2016 – Dez 2016
Krämmel plant und baut im Münchner Umland vom Wohnungsbau, über Sanierungen bis hin zum Gewerbebau. Die Zeiten, in denen die Kunden fertig gebaute Objekte besichtigten und anschließend den Kaufvertrag unterschrieben sind vorbei. Daher gilt es schon im Vorfeld die Güte und Qualität des zum Verkauf stehenden Objektes zu vermitteln. Und zwar nicht nur auf dem Papier sondern auch in Form von erlebbaren, anfassbaren und auch auswählbaren Materialien.
Der Showroom präsentiert drei abgestimmte Wohninseln, die als Besprechungsgrundlage für weitere Bemusterungen dienen. Die Kombination von Böden mit Tür- und Fensterelementen, sowie eingebaute Bäder vermittelt die Raumqualität der Immobilie als Ganzes. Die Kunden erleben einen echten 3 dimensional gebauten Ausschnitt ihrer neuen Wohnung und können mit dieser Grundlage besser entscheiden.
Design of building contractor Krämmel's showroom
Wolfratshausen near Munich
May 2016 – Dec 2016

Krämmel plans and builds from apartments to renovations up to commercial constructions in Munich's surrounding areas. The times of customers looking at completed properties and signing the bill of sale afterwards are over. Therefore the quality of the object being for sale must be conveyed beforehand. Not just on paper but through perceptible, touchable and selectable materials.
The showroom presents three 'living islands', which serve as basis for discussion for further samplings. The combination of floors with door and window elements, as well as built-in bathrooms imparts the property's space quality as a whole. Clients experience a real three dimensional section of their new apartment and with this basis can decide more easily.
Fotocredits: Andreas Hoernisch