Steigenberger Hotel Treudelberg Hamburg
Golfparadies 19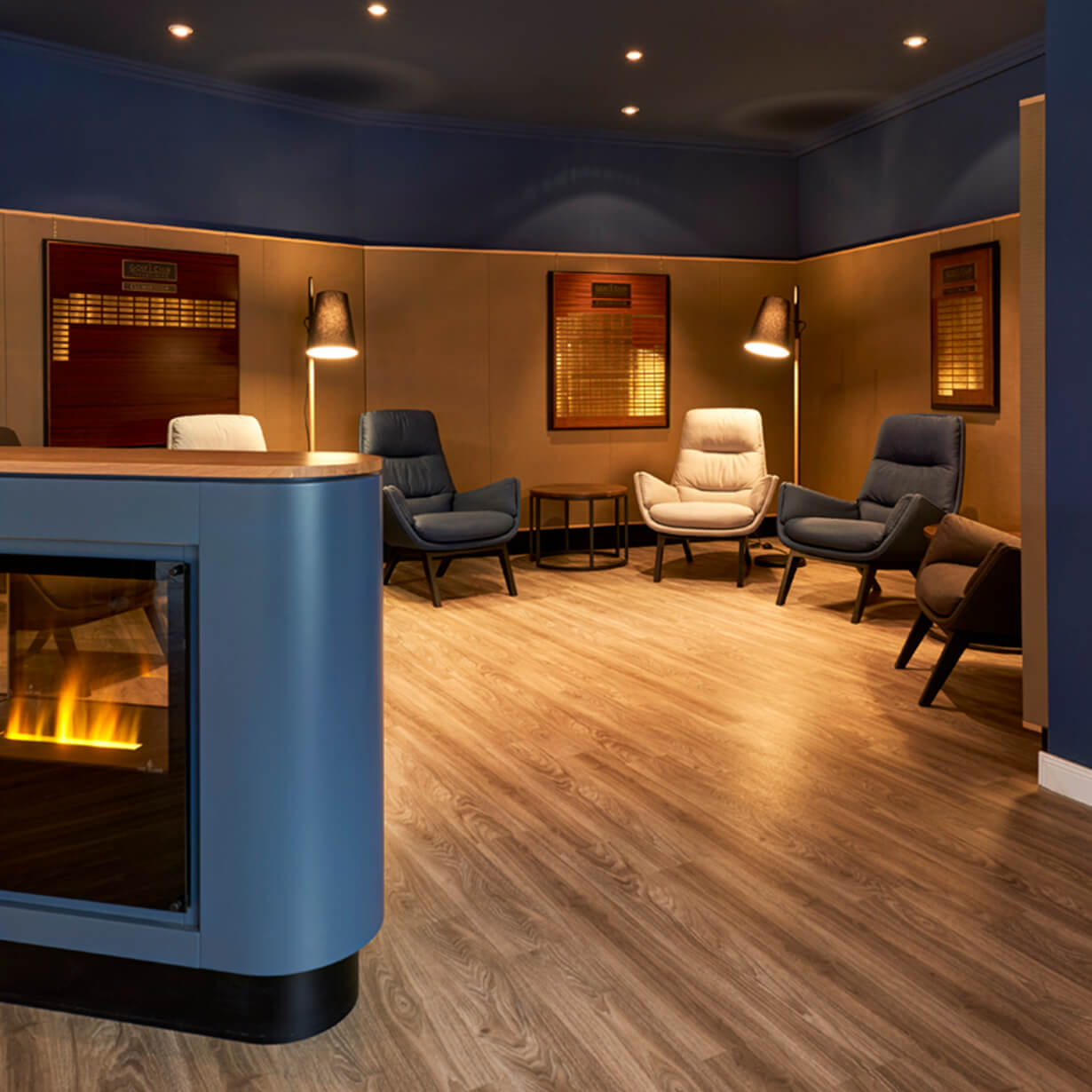 Modernisierung
meierei Innenarchitektur / Design München
SWP Architekten Hamburg
notholt lighting design Hamburg
127 Zimmer in 3 Varianten,
4 Suiten, Foyer, Bar,
2 Restaurants und Bistro,
Golfbereich, Ballsaal und Konferenzräume
Apr 2018 – Mrz 2020 
Am Anfang war das Green! Gäbe es Golf nicht, gäbe es das Hotel Treudelberg nicht.
Den Herren der Golfschöpfung ist eine adäquate Lounge gewidmet. Im dunkelblauen Salon zwischen den Trophy-Tafeln und Pokalen der prämierten Turniersieger warten einladende Sessel und Stehleuchten auf einen Drink oder eine Fachlektüre am Gaskamin. Wandverkleidungen aus geprägtem Leder runden die Herrenlounge ab, in der selbstverständlich auch Damen der Golfschöpfung willkommen sind.
Die neue Anlaufstelle für alle Golfer ist ein Alleskönner: Warten, Informieren, Buchen, Reservieren, Shoppen und Verwalten wird hier kompakt abgewickelt. Als Material wird Eiche verbaut, strapazierfähig und klassisch zugleich. Graubraun- und Sandtöne ergänzen die Theke und die Shopmöbel, damit die Produkte in den Focus rücken. Ab und zu blitz noch weiß auf – weiß wie der Golfball oder das Icon-Möbel, das als Blickfänger am Eingang wartet.
Die sanfte Überarbeitung des Golfrestaurants und des dazugehörigen Bistros setzt auf elegante Grautöne für Wand und Vorhänge und lockert dies mit Farbtupfern in rot, rost und rose auf. An zwei großen Familientischen mit gemütlichen Eckbänken können sich große Gruppen verabreden. Die Damen erhalten bequeme Polsterbänke und Couchtischchen für einen gepflegten Tee mit Ausblick in den Park.
Refurbishment
Meierei Innenarchitektur / Design München
SWP Architekten Hamburg
notholt lighting design Hamburg
127 rooms in three varieties,
four suites, foyer, bar,
two restaurants and one bistro,
ballroom and conference facilities,
golfing area
Apr 2018 – Mar 2020
The Green broke ground ! If Golf wouldn't exist, nor was the hotel Treudelberg. An adequate lounge is dedicated to the lords of golf creation. In the dark blue salon between the trophy-boards and goblets of the rewarded tournament winner, inviting armchairs and floor lights are waiting for a drink or a good book at the fireside. Wall coverings from embossed leather round the lounge off. Of course, women of golf creation are welcomed here, too. The new shelter of every golfer is a handyman: Waiting, informing, booking, reservating, shopping and administrating will be compactly concluded here. For the material, oak were used. It is durable and classical at once. Drey brown and sand hues complement the bar and shop furniture , to gain focus for the products. From time to time, the white still flashes – white, like a golfball and is waiting as an eye-catcher at the entrance. For a soft revision of the golf restaurant and the appropriate bistros elegant grey hues for walls and curtains were used. Red, rusty, and rose dash of colors ease the spatiality. On two big family tables with comfortable corner seats, big groups of people can arrange a meeting. The ladies receive comfortable settees and coffee tables for a neat cup of tea with a view over the park. 
Fotocredits: Andreas Hoernisch, Steigenberger Hotel Treudelberg / graphication.de