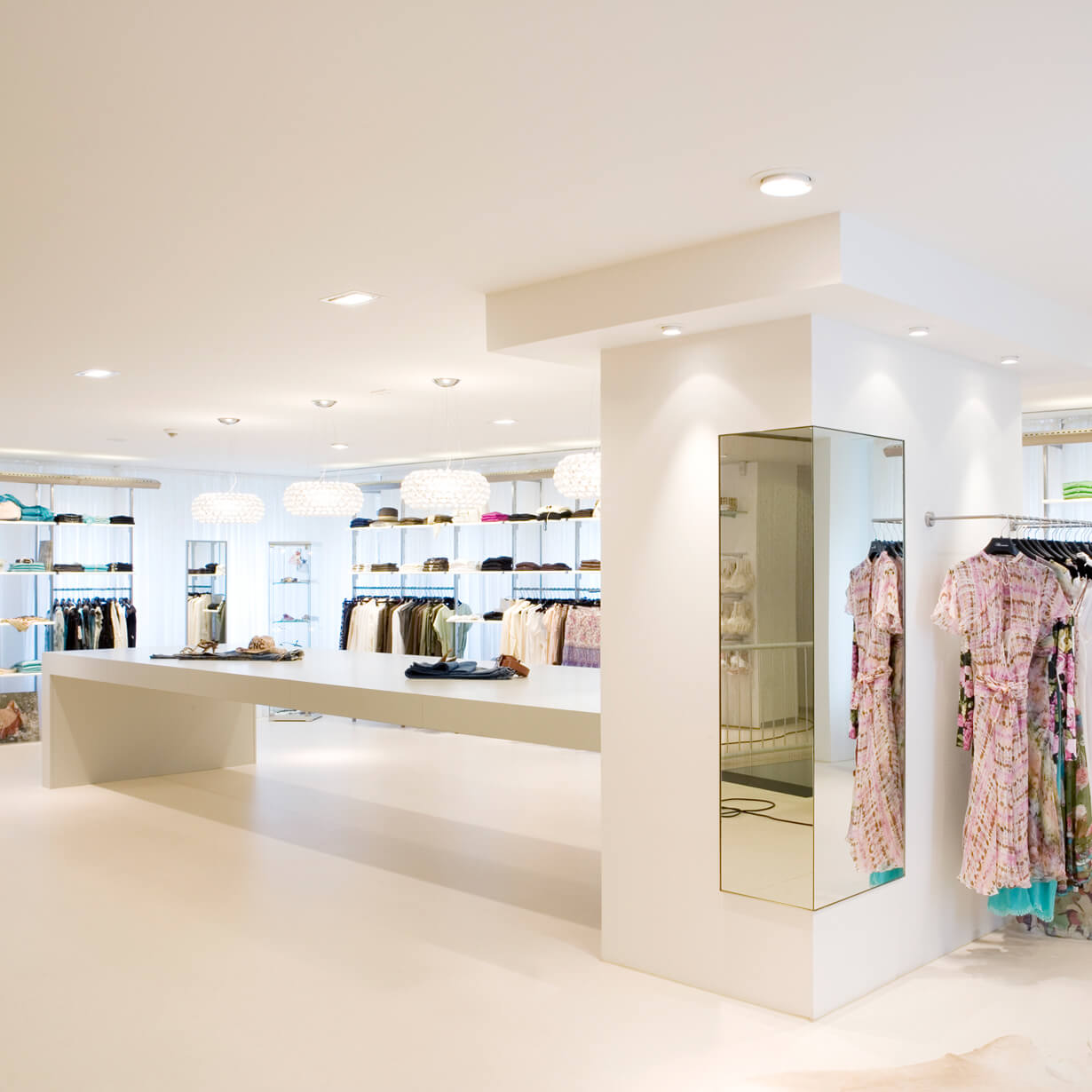 Neugestaltung eines Shops für Herren und Damen
Ingolstadt
Okt 2005 – Mrz 2006
"Kleider machen Leute" – klar! Je schöner die Kleider, desto schöner die Leute und desto schöner auch der Shop. Mutige eröffnen deshalb ein Geschäft auf drei Etagen, 450 qm, mitten in Ingolstadt. Der Totalumbau des Ladens ließ eine komplette Neugestaltung der Räumlichkeiten zu.
Im Obergeschoss umhüllt ein leichter, semi-transparenter Wandvorhang die Damenwelt.
Der geradlinige, schwarze "Catwalk" mit Krokoauflage prägt die Herrenabteilung im Erdgeschoss. Kühler Chic und bestes Licht leuchten für Anzug und Co. im Untergeschoss.
Redesign of a shop for men and women
Ingolstadt
Oct 2005 – March 2006

"Fine feathers make fine birds." – sure! The more beautiful the clothes, the more beautiful the people and the more beautiful the shop. Therefore, brave people open up a 3 level shop, 450 sqm, right in the heart of Ingolstadt. The complete remodeling of the store called for a complete re-designing of the space. On the top floor, the ladies section is enwrapped by a light, semi-transparent curtain. The straight, black "Catwalk" with croc print gives distinction to the men's section on the ground floor. Cool elegance and great lighting illuminate suits and others in the basement.
Fotocredits: Andreas Hoernisch