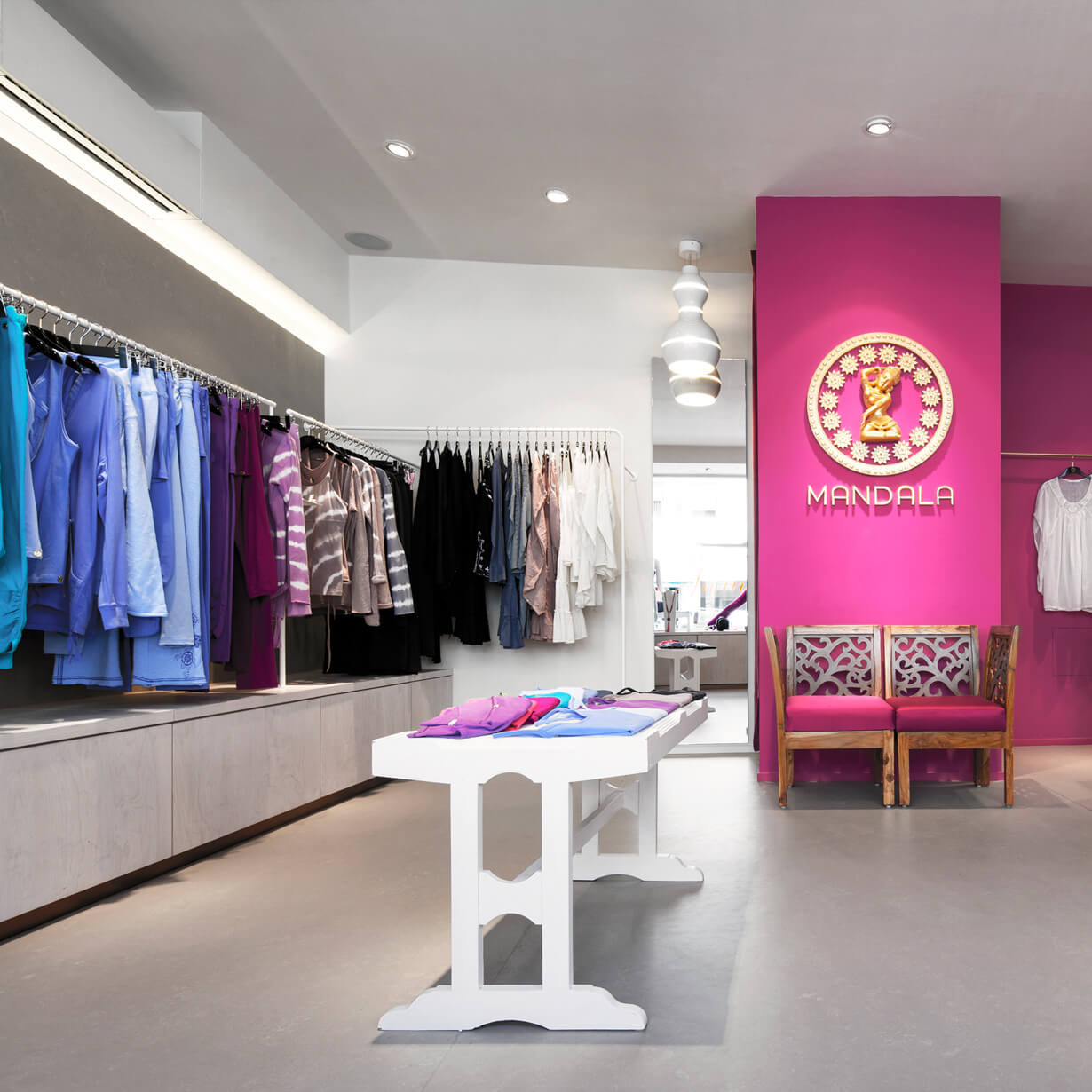 Neugestaltung eines Yogafashion-Shops für Damen
München
Okt 2013 – Mrz 2014
Nachdem das Label seit über 10 Jahren erfolgreich am Markt präsent ist, wurde nun der erste Mandala Shop in München eröffnet. Ein Schmuckkästchen für Yoga-Freunde und Yoga-Freuden sollte es werden. Ausgehend von der hochwertigen Kollektion in Handschmeichlerqualität und des "en détail" liebevollen Markenauftritts wurde ein dezent verspielter Entwurf umgesetzt. Zu der kräftigen Hausfarbe in pink schmiegt sich ein elegantes Grau und ein feines Weiß. Den Bogen nach Indien spannen goldene Elemente, wie das Logo des Hauses, Tigertapeten oder Malereien auf den Möbeln. Die guten Gaben für die guten Kundengeister werden auf kleinen Tableaus serviert. Nur üben müssen die Yogis selbst, für den Rest ist gesorgt.
Redesign of a yoga fashion shop for women
Munich
Oct 2013 – March 2014

Since the label has successfully presented itself on the market for more than 10 years, the first Mandala shop in Munich opened. To become a treasure chest for yoga friends and the joy that comes with yoga was its purpose. Based on the high end collection made out of soft and flattering materials and quality, up to detailed, loving and caring presentation of the brand, a fun and playful concept was realized. The brand's strong pink  is accompanied by an elegant grey and a soft white. The connection to India is made through golden elements, such as the logo of the brand, tiger-patterned wallpapers and the paintings on the furniture. The goods for the spirits of the clients are presented on little tableaus. All the Yogis have to do themselves is practice – the rest is taken care of.
Fotocredits: Andreas Hoernisch / Mandala