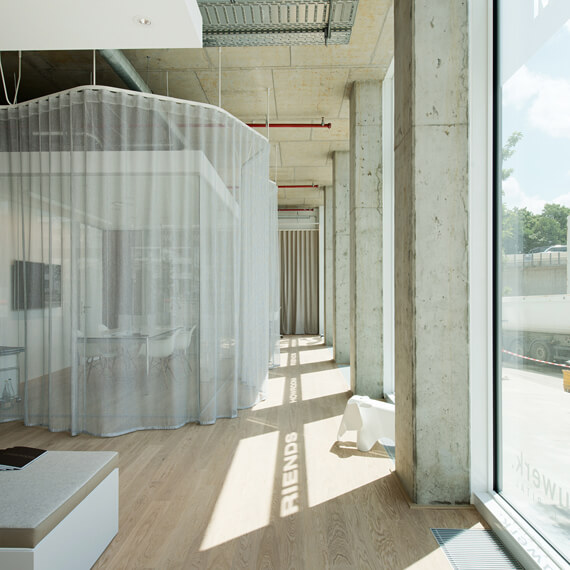 Neugestaltung eines Showrooms für Immobilien
München
Apr 2014 – Juli 2014
Im Showroom Friends werden Wohnungen verkauft. Dieser Showroom liegt direkt an dem Quartier, das neu bebaut wird, damit die Kunden das Entstehen ihrer neuen Immobilie, mit dem Namen "Friends" verfolgen können. Ein Ort der Information und Beratung, aber auch ein Ort, der Wohnlichkeit und Privatsphäre ausstrahlt. Den repräsentativen Businesscharakter erhält der Raum durch die offene Struktur, eine Raumhöhe von 3,90 Metern und die großen Glasfronten. Um die temporäre Nutzung der Fläche zu zeigen, wurde die Installationseben an der Decke sichtbar belassen. Die Glaseinbauten für Beratungsgespräche liegen zentral und gliedern den Großraum in einen Dreispänner: vorne Empfang und Lounge mit Architekturmodell, mittig Beratungszone mit dezenter Verhüllung und rückwärtig Back Office, sowie Infrastrukturräume. Der Showroom erhielt Ausbauzitate, die später auch in den Wohnungen zu finden sein werden: helle Eichendielen, Raumtrennungen durch Vorhänge in Loden oder transparenten Stoffen, auch eine edle Designküche wurde platziert.
Redesign of a showroom for real estate
Munich
April 2014 – July 2014

Showroom Friends sells apartments. The loft is located right by the quarter that is being built-up. This way, clients are able to observe the rising of their new estate with the title "Friends".
A place of information and consulting, but also a spot which radiates comfort and privacy. The room gains its representative 'business character' through the open structure, a ceiling height of 3,90m and large glass fronts.
In order to show the temporary usage of the space the installations on the ceiling were left visible. The glas fittings are centric and divide the space into three parts:
Up front are the reception and lounge, as well as the architectural model, the center discreetly enwraps a conference room while the back is made up of the office, as well as containing facilities. The showroom gained a décor which can later be found in the apartments as well: Oak floors, space division through curtains and a classy design kitchen. Signature elements of the room are white and oil-impregnated oak floors, and the room-high curtains made out of loden and technical textures. The floor spreads over the entire presentation area of 171 qm and imparts the space with a binding atmosphere. The broad textile zones with 3,20m height serve a homelike as well as an acoustic function. Depending on the light, the transparency of the center changes – during the day, it is rather dense, at night the conference room becomes a spacial sculpture.
Fotocredits: Sorin Morar