Steigenberger Hotel Treudelberg Hamburg Rooms II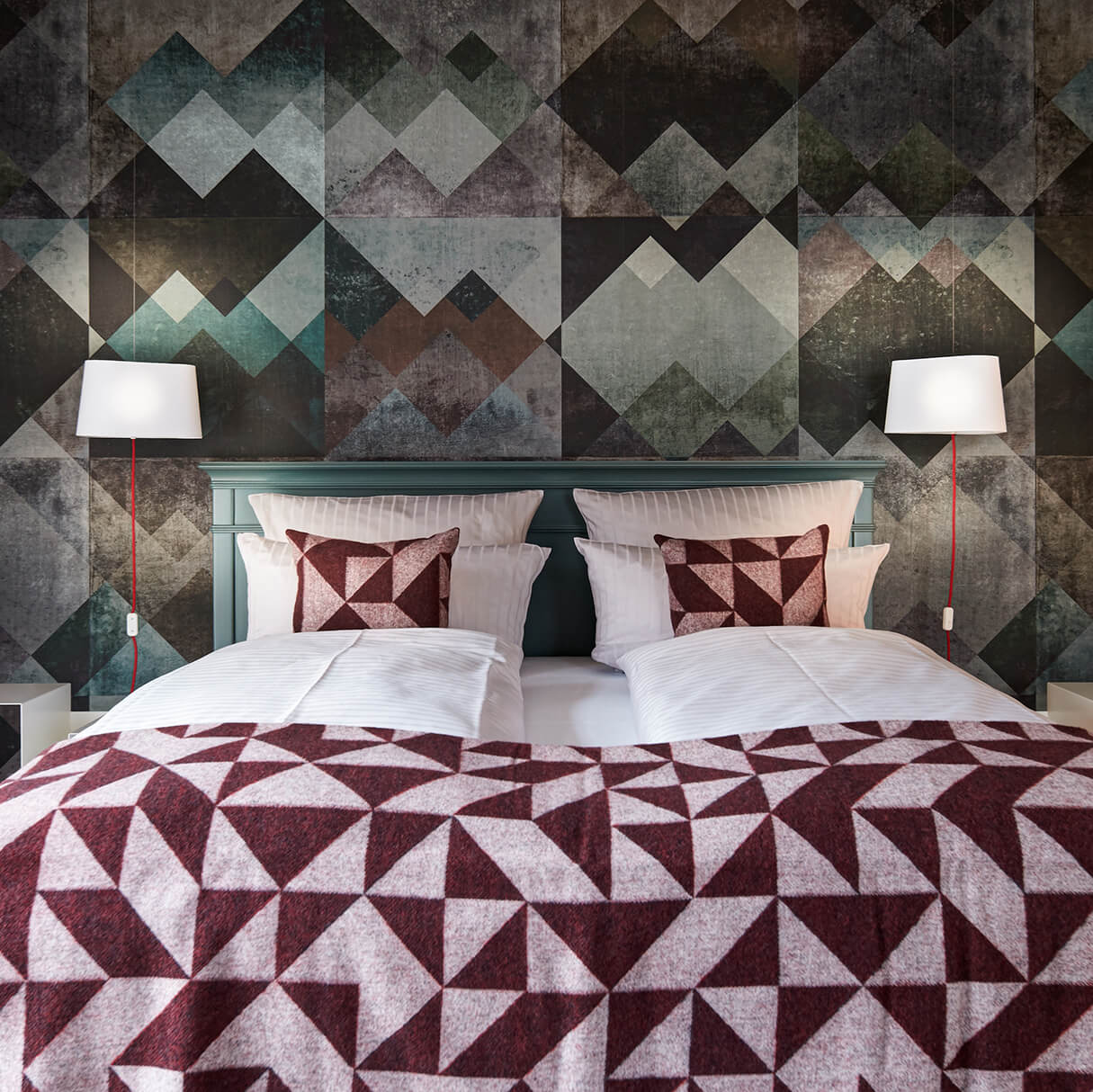 Modernisierung
Meierei Innenarchitektur | Design München
SWP Architekten Hamburg
nothold lighting design Hamburg
127 Zimmer in 3 Varianten,
4 Suiten, Foyer, Bar,
2 Restaurants und Bistro,
Ballsaal und Konferenzräume,
Golfbereich
Apr 2018 – Mrz 2020
Das Ziel der Zimmerrenovierung war ein neuer Look, ohne die Raumstruktur zu verändern. Ein Mix aus der soliden Bestandsqualität und einem modernem Landhaus war das Konzept. So sind die gemütlichen Sessel frisch gepolstert, die Bettkopfteile farbig lackiert und die Verdunkler neu dekoriert. Zum einen ist dies ein echter Beitrag zur Nachhaltigkeit zum anderen bleiben vertraute Elemente in den Zimmern.
Dennoch wollen die Gäste überrascht werden. Darum erhält die komplette Wand hinter jedem Bett ein sehr großes Bild. Drei malerisch-grafische Tapetenmotive tauchen die Zimmer in unterschiedliches Flair, wobei alle anderen Ausbaukomponenten unverändert sind. Das neue Holzparkett ziert ein Fußschmeichler aus Portugal. Die Rugs werden aus recycelter Baumwolle und Korkeiche von Hand gewebt. Als Kontrast zum Rustikalen stehen moderne, weiße Elemente für Eleganz. Im neuen Badezimmer zitieren die Fliesen in hellgrün-weißer Terrazzooptik einen Wasserlauf und farblich passende Waschtische in zartem seegrasgrün runden die Landfrische ab.
Refurbishment
Meierei Innenarchitektur |  Design München
SWP Architekten Hamburg
nothold lighting design Hamburg
127 rooms in 3 various versions,
4 suites, lounge, bar,
2 restaurants and bistro,
ballroom and conference facilities,
golf area
Apr 2018 – Mar 2020
Target of the room renovation was to create a new look without changing the spatial structure. The concept consisted of a mix of solid constituent quality and modern country home. Thus, the comfortable armchairs are recently padded, headboards are colorfully lacquered and the obfuscators are newly decorated. Firstly it is a genuine statement to sustainability and secondly, familiar elements remain in the rooms. Nevertheless, the guests want to be surprised. Therefore, every wall behind the beds received a big picture. The rooms are immersed by three scenically graphic wallpaper motives which creates various atmospheres. Every other fixture remain stationary though. A portuguese flatterer for feet adorns the new wood parquet. The rugs were made from recycled hand-woven cotton and cork oak. To form a contrast to the rustic and bring out some elegance, modern white elements were used. The tiles in the new bathrooms have a brightly green and white terrazzo look and form a stream. Thereto, appropriating color vanities in gently seaweed green round the country freshness.
Fotocredits: Andreas Hoernisch, Steigenberger Hotel Treudelberg / graphication.de