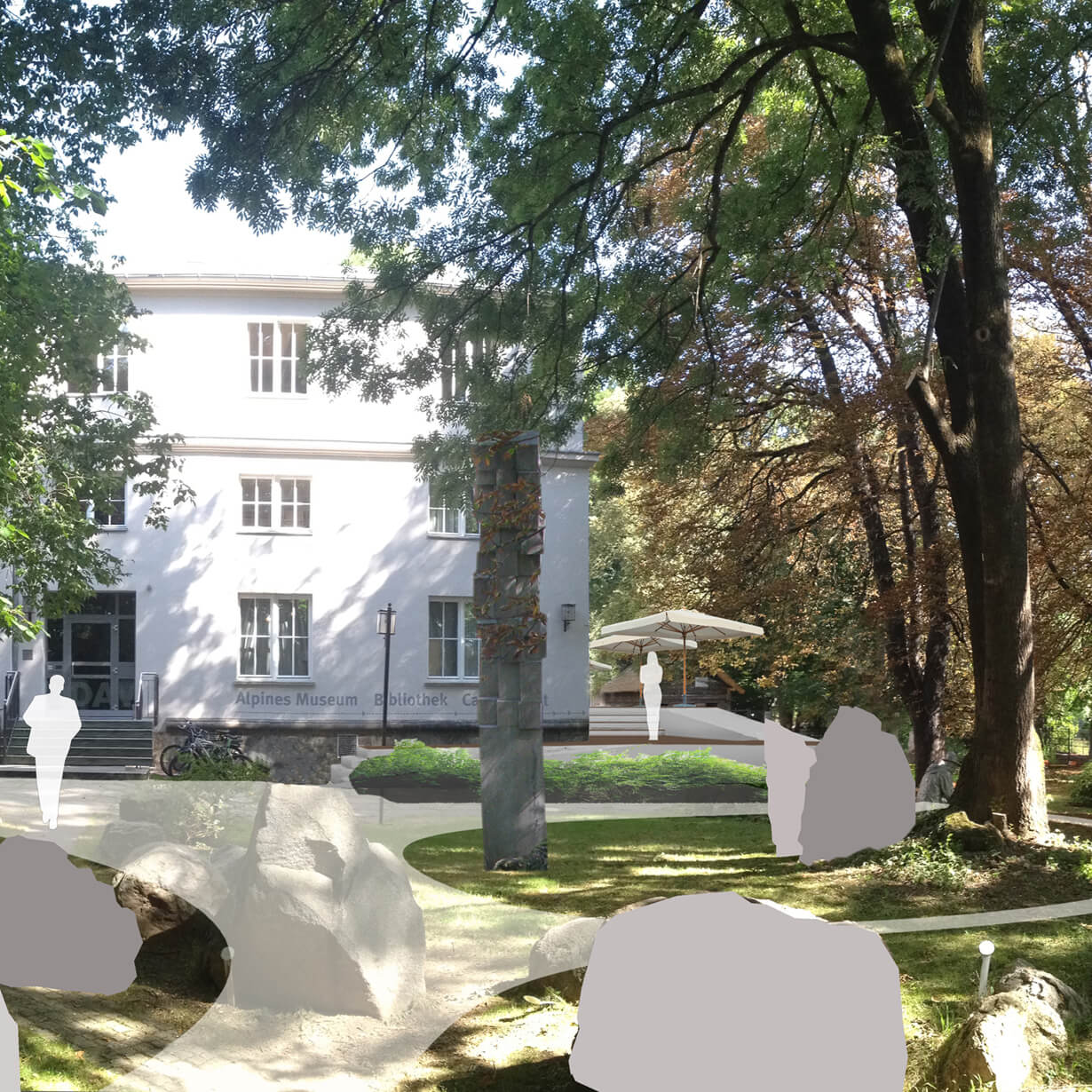 Alpines Museum
Wettbewerb No.2
Ideenwettbewerb 2. Platz
München
Aug 2016 – Mrz 2017
Das Alpine Museum des Deutschen Alpenvereins in München hält auf der Praterinsel zwischen Isar und Isarkanal einen Dornröschenschlaf ab. Nur Insidern ist der wunderbare Garten in Richtung Osten geläufig, Berg-Interessierte und DAV-Mitglieder schätzen dieses Idyll sehr.
Um das Haus mehr in das öffentliche Bewusstsein zu setzen und auch die internen Funktionen des Gebäudes neu zu organisieren wurde zu einem Ideenwettbewerb zum Umbau des Gebäudes und einer Überarbeitung der Freianlagen eingeladen – Bauen im Bestand!
Außen:
Bessere Sichtbarkeit des Museums im Stadtraum und Garten
Neue Platzgestaltung vor den Toren des Alpinen Museums
Neuer Garteneingang auf der Südseite
Innen:
Neuer Museumszugang über großzügige Terrassentreppe
Zentraler Eingang für alle Nutzungen
Ausstellungsflächen Museum
Bibliothek
Café
Veranstaltungssaal
Büros für Verwaltung
Die meierei erhielt final den 2. Platz.
Dem Alpinen Museum bleibt viel Erfolg und gutes Gelingen für die Umsetzung zu wünschen!
The Alpine Museum
Challenge No.2
Idea challenge: second place
Munich
Aug 2016 – Mar 2017
The "Alpine Museum" of the german Alpine Club in Munich sleeps on the Praterinsel between the Isar and Isar channel like sleeping beauty. Only Insiders are aware of the wonderful garden, which looks east. Mountain interested parties or DAV members appreciate the idyll. 
To bring the house into the public conscience and to organize the intern functions of the building, an idea challenge was fathered, which invited us for an alteration of the building and a revision of the outdoor enclosure – Building conservation !
Outside:
A better visibility of the museum in the city center and in the garden.
A new plaza design at the gates of the Alpine Museum.
A new garden entrance on the south side 
Inside:
A new Museum entrance to a generous terrace staircase.
Central doorway for all usages.
Exhibition area Museum
Library 
Café
Event location
Administration offices

The meierei received the second place finally.
We wish you every success in the transformation !