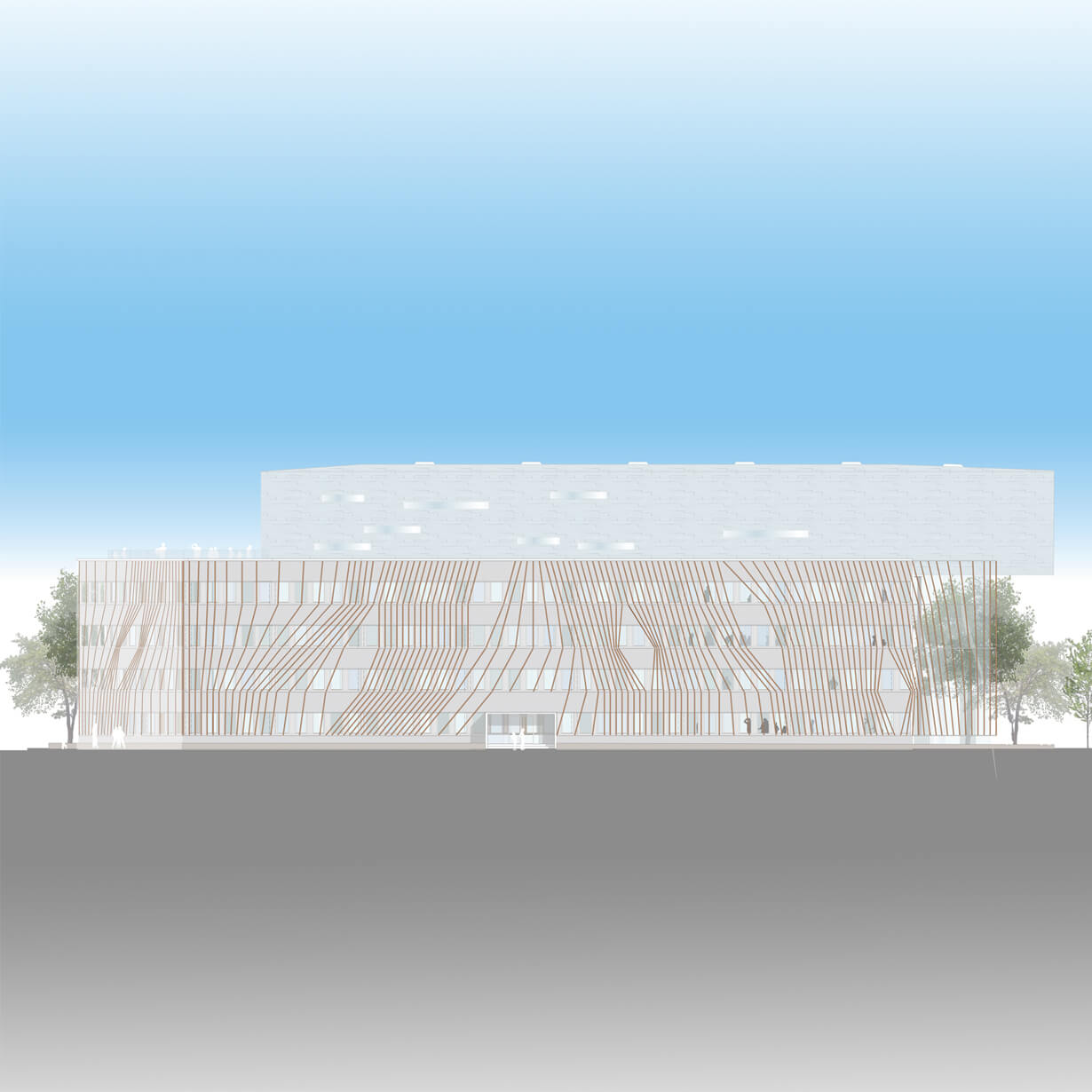 Wettbewerb No.1 Bundesgeschäftsstelle DAV, Bauen im Bestand
München
Mai 2016
Im Münchner Norden liegt das Langenscheidhaus, ein Stahlbetonschlitten aus den 1970er Jahren. Der Deutsche Alpenverein hat dieses Gebäude gekauft, um es in die Hauptgeschäftsstelle für Deutschland umzuwandeln. Zum Wettbewerb für diesen Umbau samt Aufstockung waren 13 Büros geladen, u.a. auch die meierei. Das Gestaltungsmotiv der Fassade war der Baumgrenze gewidmet. Zusammen mit dem Arch. Stephan Ott wurden entsprechend innovative Fassaden und -details entwickelt, Transsolar konzipierte das Energiekonzept des Gebäudes und das Statikbüro Seeberger Friedl und Partner unterstützte mit einem Konzept für den Holzbau der Aufstockung. Unser Sieg war die hervorragende Zusammenarbeit aller Spezialisten… und Wettbewerb No.2!
Competition #1, Federal office, design and construction in existing buildings
Munich
May 2016

The Langenscheidhaus is located in the North of Munich, a 1970s giant made out of reinforced concrete. The German Alpine Club bought this building in order to transform it into the main office in Germany. 13 offices were invited to participate in this competition for the conversion and addition of more storeys, meierei was one of them. The design of the facade was a dedication to the tree line. Together with architect Stephan Otto innovative facades and details were developed accordingly, Transsolar conceptualized the energy concept of the building and statics office Seeberger Friedl und Partner supported with a timber construction concept for the floors to be added. Our victory was the result of outstanding cooperation of all specialists – and competition #2!